Founder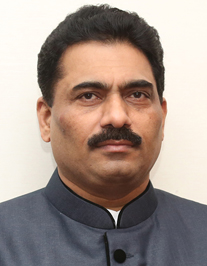 As a serial and successful entrepreneur, Mr. Chandrakant Salunkhe has taken initiatives to provide guidance and support to SME Sector, manufacturing industries, start-ups and new entrepreneurs for the enhancement of skill, scale and business growth for the last 35 years at the various platforms. He has founded SME Chamber of India in 1993 with the intention to empower SMEs for global competitiveness and explore emerging business opportunities at the domestic and international markets.
Under his dynamic leadership, the Chamber has been supporting SMEs for export promotion, channelising finance, investment, private equity & external commercial borrowings, international collaborations, contract manufacturing, joint ventures, technology transfer, supply and procurement, resolve issues and take up grievances with the appropriate authorities & regular interactions with the heads of regulatory authorities. The Chamber is encouraging SMEs to enter into capital market, awareness programs on the various schemes and incentives, interactions with the thought leaders and policy makers, branding of products manufactured by SMEs, support to set up manufacturing units in India and abroad, revival of sick and struggling SMEs. SME Chamber of India has been organising constantly various National & International level trade promotional activities, events, conferences, seminars, webinars, round table discussions, study visits for the benefit of SME sector, to enhance and establish business co-operation with the potential business partners.
Macro Group of companies
Macro Corporate Services Pvt. Ltd.
Salunkhe Packaging Pvt. Ltd.
SME Industrial Park India Pvt. Ltd.
Salunkhe Exports Pvt. Ltd
SME Credit Check Pvt. Ltd.
Geoptech Solutions Pvt. Ltd.
Mr. Salunkhe has initiated "India SME Excellence Awards" and "Rising SMEs of India" for recognising members, other entrepreneurs, small & medium enterprises & institutions for their outstanding contributions & remarkable achievements in their respective businesses for innovation, invention & towards nation building for the last 22 years and also initiated "Pride of Maharashtra", "Pride of Gujarat", "SME Business Icons of India" & "Rising SMEs of the Year" Awards.
Mr. Salunkhe has established various organisations & brands to provide platforms to the entrepreneurs to connect, communicate & commercialise their business ideas, business & export growth. Mr. Salunkhe has been travelling extensively for the business growth & establishing co-operation with the various organisations from USA, Canada, UK, Israel, various European Countries, Japan, Australia, New Zealand, South Korea, Hong Kong, China, Turkey, Malaysia, Thailand, Indonesia, Vietnam, Egypt, Singapore, Bahrain, UAE, South Africa, Oman, Mauritius, Qatar, Taiwan, Sri Lanka and all GCC Countries.
ORGANISATIONS:
SME Chamber of India (Small and Medium Business Development Chamber of India)
Federation of Indian SME Associations
India International Trade Centre (Trade and Investment Promotion Organisation)
Packaging Industry Association of India (PIAI)
Maharashtra Industry Development Association (MIDA)
Gujarat Industry Development Association
Packaging Industry Association of India (PIAI)
SME Business Management Institute
Marathi Chamber of Business and Industries
SME Industrial Parks of India
World SME Trade Centre
SME Export Promotion Council
SME Investment Promotion Council
SME Technology Development Council
SME Insurance Promotion Council
Start-Ups Council of India
SME Business Forum
Entrepreneurship Development division (with various Educational Institutes)
Women Entrepreneurs Development Council
"SMEtalks" & "SMECoach" Platforms
SME Connect – Magazine
International Business Forums of India
CONTRIBUTIONS & EFFORTS OF MR. CHANDRAKANT SALUNKHE
Mr. Salunkhe had insisted to Mr. Narendra Modi, Hon'ble Prime Minister on 27th December 2019, to change the definition of MSMEs for equalization with the international level as well as in the perspectives of financial institutions and regulatory authorities to show case their credibility and credit worthiness. The request of change of definition has been immediately accepted by the Prime Minister and the Ministry of MSME and implemented the same in few months.
Mr. Salunkhe had invited the then Hon'ble Prime Minister, Mr. Atal Bihari Vajpayee on 1st May, 2002 at New Delhi to felicitate successful Entrepreneurs and recommended to change the definitions of Small-Scale Industrial sector into MSME Act as well as to provide platform to NRI businessmen to explore business opportunities in India.
Being a Member of RBI Governor's Pre-Monetary Policy Review Committee for the last 15 years, he has been advocating for the enhancement of credit flow towards MSME sector and focus on revival and restructure of struggling SMEs and to improve services from the financial institutions.
Member, RBI Empowered Committee for SMEs and SLIC for the various States for the last 15 years.
Member of the working group to study "MSME Development Act, 2006" for advocating to change the definitions of MSME sector constituted on 8th January 2020 by the Ministry and previously 2002, 2005 & 2006.
Key note Speaker at "European SME Congress" organized by European commission in October 2016 at Katowice, Poland.
Key note Speaker at "SME Assembly" organized by the European commission in November 2013 at Vilnius, Lithuania.
Speaker at "World Trade Symposium" annual conference organized by the Financial Times in June 2016 at London.
Speaker at G-20 Conference on SME sector at Riyadh, Saudi Arabia, 2014.
He has inaugurated the "Industrial & Commercial Bank of China" – ICBC Bank, India Operations and Branch on 15th September 2011 at Mumbai. ICBC is the world's largest & No. 1 Chinese Bank, with a brand value of more than US$ 55 billion. ICBC Bank ranks 13th amongst the most valuable financial brands.
Member of the Industry and Task Force, under the Chairmanship of the Chief Minister of Maharashtra (2002 – 2007).
Member of the National Advisory Board of MSME, Government of India (2011-2013).
Advocated to set up "SME Stock Exchange" during the tenure of Mr C B Bhave, as the Chairman, Securities and Exchange Board of India (SEBI).
Board of Director of Bharat Heavy Plates and Vessels Ltd. (2002 – 2004), Pubic Sector Undertaking of the Government of India.
Advocated to initiate National Skill Development Corporation through Mr. Montek Singh Ahluwalia, the then Deputy Chairman, Planning commission of India in 2008.
Organised SME & Entrepreneurship Awards function in the presence of the then Hon'ble Deputy Prime Minister, Mr. L.K. Advani on 1st May, 2003 at New Delhi.
He was actively involved to organise the first ever & a mega event on "Global Investors Meet" - Advantage Maharashtra, jointly with the Government of Maharashtra in 1996 at Mumbai. He had invited the then Prime minister, Mr. H.D. Deve Gowda and the then Chief Minister of Maharashtra, Mr. Manohar Joshi and 500 foreign delegates, who attended 3 days event.
Mr. Salunkhe was appointed as the Chairman of Law & Order of "Federation of Association of Maharashtra", and he was on the forefront with the then Commissioner of Police, Mumbai to weed out goons & anti-social elements, which were affecting the businesses and industries in Mumbai region since they have deteriorated law and order situations in Mumbai from April to November, 1998.
Mr. Salunkhe has taken lead to provide collateral free loans to micro and small enterprises in 1997 and SIDBI has accepted his proposal and Shri Prakash Nimbalkar, the then Chairman of the Bank launched this scheme. Thereafter, Mr. Salunkhe has also pursued for the enhancement of collateral free loans from Rs.25 lakhs to Rs.50 lakhs and from Rs.50 lakhs to Rs.1 crore and subsequently, from Rs.1 crore to Rs.2 crores.
He has been active Member of the various Government Committees, Study Groups and expert group to present new concepts and new ideas and given inputs on Industry, Finance and SME Sector for the last 20 years.
He has been regularly participating in the national and international conferences as a speaker and sharing his views on the current affairs through various medias, TV channels, Business magazines, newspapers and webinars, conferences, round table, debates and various events & business meetings.
Mr. Salunkhe can be contacted on : president@smechamber.com